What is a Sound Walk?
A Sound Walk is a "sonic guide" to a specific place, a bit like an audio tour in a museum or gallery, but outdoors.
You follow the route on your tablet or smart phone and, listening through headphones, you hear sounds captured in that place. You will also hear the thoughts, emotions and memories of local people.
Each walk can be downloaded to any smart phone or tablet via the browser, so you don't need to use up data on the walk.
They can all be accessed from this link:
https://recursivearts.com/sonicmaps/
The video at the top of the page shows in detail how to use the walks whether your are out and about or listening from home. 
About the Project
The project is an artist-led, inter-generational, community art project. 
What does that mean? 
Commissioned by Live Life Aberdeenshire's Arts and Heritage team, two professional artists - Pete Stollery (Sound) and Bryan Angus (Visual) - led the project. People who live, work and walk the dog in Ladysbridge, Banff, New Byth, Rosehearty and Sandhaven are the most important partners on the project.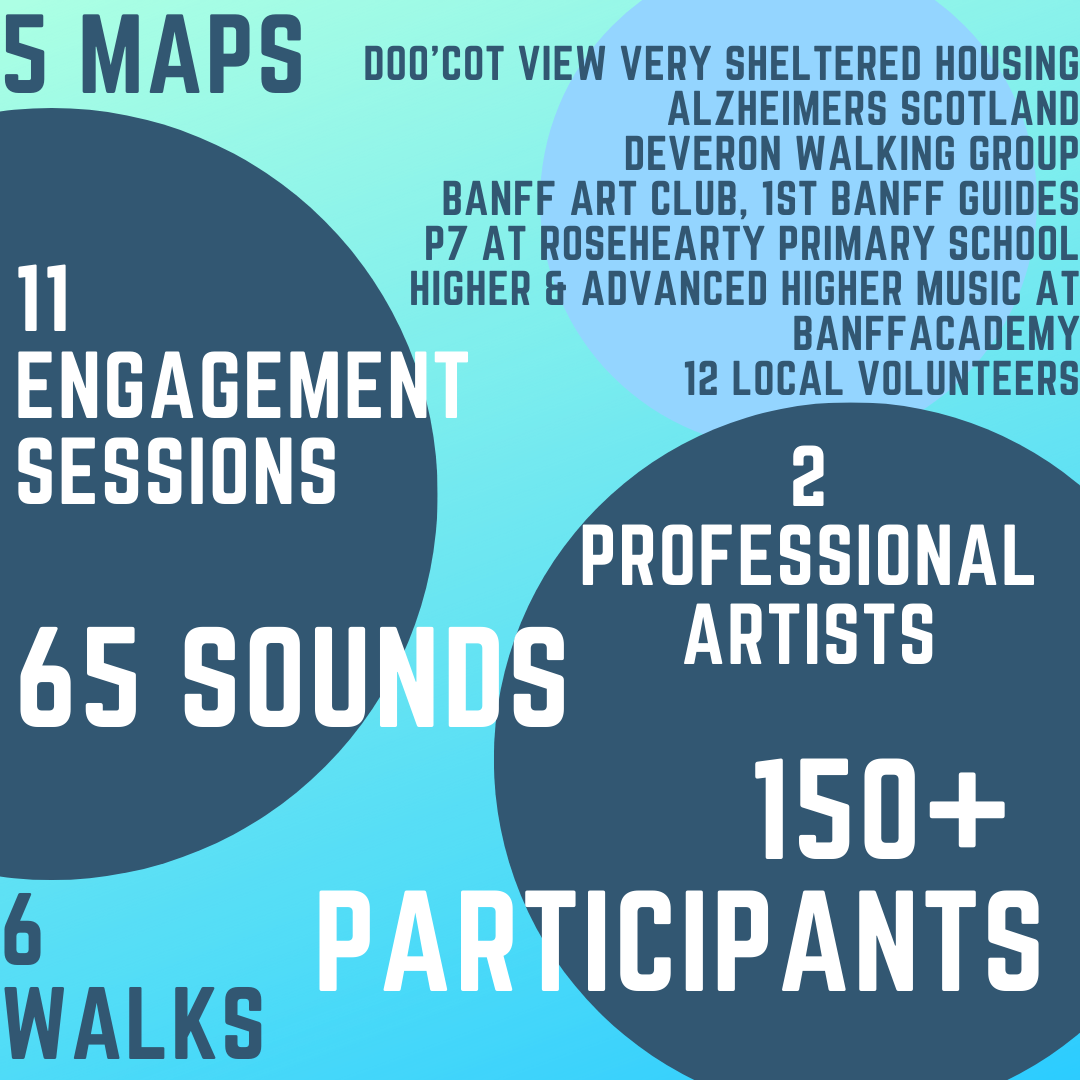 Behind the Scenes
This video gives an exclusive look into how the Artists created the sound maps.
It follows the process from the initial sound recording, through the creating an image from that sound, to then showing how, technically, both sound and image are made available in an online map.
Thanks
Volunteer writers and voices: Alan Cluley, Gerry Duncan, Nathan Duncan, The Findlay Family, Jo Gilbert, Jack Mitchell, Lewis Murray, Jo Nicholson, Elizabeth Pirie, Scott Riddoch, Gillian Robertson, Tamzin Rooke, Lynne Rose, Cameron Seivwright, Chloe Stollery, Eva Wackett, Ciaran Whyte.
Many of the sounds captured in the maps and walks came from public sessions run by Pete and Bryan in schools and with different community groups. Some sounds were suggested by participants and captured later, other sounds were recorded on the day as part of the meeting.
Feedback
We'd like to hear from you. Have you enjoyed the Sound Maps and Walks? What could make them better?